I have a growing interest in kick scooting, as a fun recreational activity that doesn't require large, massive, or hard-to-transport equipment. Also being a heavier adult I have wondered if I could find kick scooters that would work for me. My research has led me to the best kick scooter for heavy adults.
The best kick scooter for heavy adults is the XOOTR Mg Scooter For Teens and Adults. This scooter would easily fit a heavy adult such as a 300 lb. man or bigger.
Extreme high weight capacity of over 800 lbs. (362.87 kg) will hold many heavy adults
A bigger deck at 23.4 inches (594 mm) Long by 7.4 inches (187 mm) Wide feels more secure underfoot
Max Handlebar Height 38″ (965 mm) for more stable steering for taller adults
Larger 180 mm Polyurethane Tires gives this scooter a smoother ride
This scooter would work for the heaviest heavy adults looking to scoot. The XOOTR Mg Scooter is a great choice to fit a larger person at a max rider weight over 800 lbs (363 kgs), (according to the company website).
But by all means, it is not the only choice that I found. Below I mention a couple of other scooters available that would accommodate a larger person with weight capacities of 250 lbs. or more.
XOOTR Mg Scooter For Teens & Adults On The Heavier Side
In General – As far as scooters go for heavy teens and heavy adults, this scooter is a win, win! It is built for weight and stability. It can accommodate taller people up to 6'7″ (201 cm) and the kick scooter deck being extra large can fit both feet comfortably. It has an additional front brake for more stopping power, this makes it a safer scooting experience.
Weight Load- The XOOTR Mg Scooter coming in at the top of this list because it beats all top load weights with a whopping 800 lbs. (363 kg) plus weight capacity! As stated on the company website. It actually says Over 800 lbs. (363 kg) max ride load.
My View – Out of all the scooters I have researched this one stands out for the weight capacity and larger deck which adds stability. In addition, I like the idea of a front brake. This is a must-have if you are a heavy adult looking to get into scootering.
Click on the scooter above to check out the latest price on Amazon.
Additional Features…
Under $300 US Dollars
Cast Aluminum Frame
Cast Magnesium Deck with anti-slip machined dots making it slip-resistant
Larger Wheels at 180mm made of Polyurethane and  Die Cast Aluminum Rims
Quick Folding Scooter
Weighing in at 10 lbs. (4.5 kg) For Easy Carry
Limited Lifetime Warranty
Check out this video review of the XOOTR Mg Scooter.
Kick Scooters 300 lb Plus Weight Limit
The average scooter weight that I have come across is 220 lbs. (100 kg), so an average adult has a plethora of choices, but if you weigh more than that, the majority of scooters just won't work.
The best scooter that I have found in my research as I mentioned above is the XOOTR Mg. But here are some other scooters that would work for a heavier adult of 250 lbs. or more and the last three having above a 300 lb. weight limit.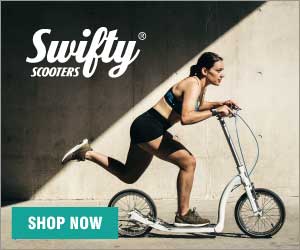 SwiftyZERO MK2

Lightweight and sturdy
Good for tall riders with a max height of 6'5″ (195cm)
Min height rider 5'0″ (152cm)
15.4″ (390mm) Deck length
Dual brakes for extra stopping power
Pneumatic tires give a smoother ride
Mudguards can be bought separately
Max weight load 330 lbs. (150 kg)

The Atom Sidewalker Collapsible Adult Scooter

All-terrain kick scooter
Dual brakes for extra stopping power
Pneumatic tires give a smoother ride
A wide platform at 17.5″ (44.45cm) long by 7″ (17.78cm) wide to fit larger feet
Mudguards on the tires keep mud and rain from splashing up
Max weight load 375 lbs. (170 kg)
Are Kick Scooters Good Exercise For Heavier Adults?
If you are looking to lose a few pounds, and get some fresh air then a kick scooter can be the perfect form of exercise. A kick scooter offers a low-impact workout that is easy on the knees. This is important if you are heavier and your knees are starting to feel the extra weight.
Kick scooting falls between bicycling and running, that is a good cardio workout to get your heart rate up and oxygen flowing. It builds lower body strength by the mere fact that you are standing on one leg and pushing with the other. Like bicycling it works on balance and coordination.
Your upper body is not without its share of a workout. As you hold onto the handlebars and lean into the glide after kicking off with your leg, your arms build strength too. This is a good overall body workout that is low impact and fun! So if you are new to scootering and need some guidance check out my post on how to ride a scooter for beginners here.
How Much Weight Can A Pro Scooter Hold?
If you are thinking of going with a stunt scooter and you are a heavier adult weighing more than 220 lbs. (100 kg), you might want to rethink that. The highest weight that I have found so far is up to and not more than 220 lbs. (100 kg). The average pro scooter can hold up to 220 lbs. (100 kg).
Pro scooters are constructed with sleeker stronger frames which are usually lighter in weight. They have minimum pieces to help withstand all the abuse they get. They have smaller decks and smaller wheels for quicker maneuvering and stunt tricks.
I did see a pro scooter brand that claimed that it would hold up to 250 lbs. But I have yet to verify that. So if you're looking to do some stunt scooting and you are a heavier adult, it might not be the sport for you at the moment.
Kick Scooters For Heavier Adults Commuting
Kick scooters are a great way to save on fuel expenses and help with pollution plus get some exercise! If you live in a bigger city and commute to work by car you know the nightmares of traffic. A kick scooter could be a solution to this daily nightmare. So you might want to consider riding a scooter for your daily commute. While choosing a scooter for a heavier adult to commute, you do need to consider the maximum weight that a scooter will hold along with a few other things.
There are many choices for kick scooters for adults commuting to and from work or recreation. If you are using it for commuting you may want to consider the actual weight of the scooter and if you can fold it up and carry it easily, in case you need to hop on a train or bus. The XOOTR Mg Teen/Adult Scooter only weighs in at 10.9 lbs. (4.94 kg).
The best ones would have a larger deck for more stability and comfort. A front brake would be a plus, also mudguards on the tires would keep you mud-free if you were to cross over terrain that had gotten wet or if it starts to rain while on your commute.
Bigger tires can lend themselves to a smoother ride especially over rougher roads or cracks and for jumping curbs. A bigger scooter with bigger tires may not be as maneuverable as a sleeker design, but hey, you're just commuting, you're not competing in a marathon so slow down and enjoy the scenery. You will be at work before you know it!
The Convenience Of Foldable Scooters When Commuting
Foldable scooters are surely a plus if you are using a scooter for commuting, they can fold up and be carried on a bus or subway. Easily carry a folded scooter with an added scooter shoulder strap or hand strap. It is much easier than a bike or other type of manual powered wheeled vehicle. A folded scooter can fit better in a car. Usually, foldable scooters are scooters used for town cruising or just good ole recreation.
There are many options for foldable scooters for adults. What you want to keep in mind is how much the scooter weighs, because if you plan on having to carry it, you don't want it to be too heavy.
Another thing about foldable scooters is how easily do they fold? Is it a mechanism that requires taking a pinout and replacing it in another spot to fold down the scooter? This could be a problem if you were to lose the pin and make the scooter totally unusable.
Another type of folding mechanism would be a lever you move and the unfold and place the lever back in place. You would want to make sure that the lever is secure as not to cause a mishap.
One of the better mechanisms is a quick click that you just press a button and the scooter folds right up and when you want to unfold it, you can release the clamp with your foot to unfold the scooter.
The newer XOOTR Teen/Adult Kick Scooters have a QuickClick Latch Folding Mechanism. Check them out!