As I explore and research scooters, I am running into the most unusual forms of fun on wheels or "wheel". One that has caught my attention is a one-wheel electric scooter. Just what are the one-wheel electric scooters?
A one-wheel electric scooter is a self-balancing electric single-wheeled recreational / sport vehicle that enables the rider to scoot around with minimum effort. Better referred to as a EUC–Electric Unicycle, Electric Wheel, Onewheel, Monowheel, or Monocycle.
These different scooters are perplexing at times and just plain astonishing! People just never cease to amaze me when it comes to innovation and design. Here I introduce you to a few.
EUC-Electric Unicycle, One-Wheel Scooter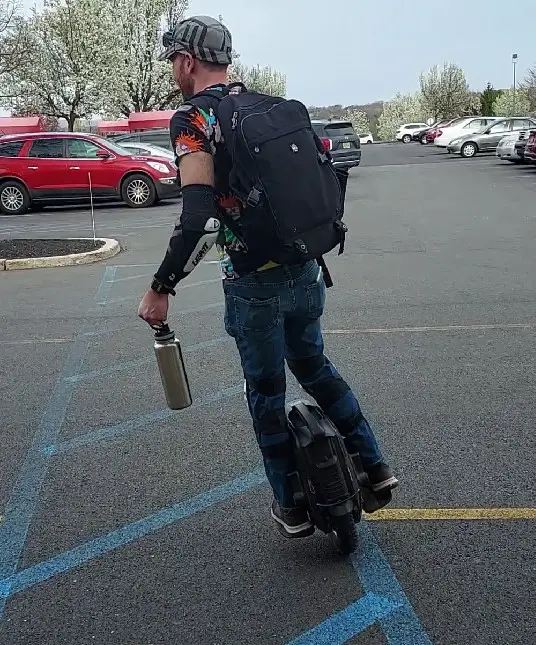 Are you an adventure seeker, looking for a unique new toy? Well, unique sums it up well. Electric UniCycles-EUC or One Wheel Scooters are just that, unique. So if you want a head-turning experience with lots of fun then welcome to the world of EUCs.
EUCs are self-balancing and a speedy form of transportation for recreation or commuting. They are compact enough to carry or roll around like a piece of luggage. Weighing in at around 16 lbs. (17.26 kg) up to a hefty 77 lbs. (34.93 kg). There is a wide range to choose from. Here are a few to check out.
---
---
It is a great way to get around as it is compact and can go anywhere you go, which eliminates the need to leave it somewhere unattended by you. Some are small enough to even fit in a reusable shopping bag and be carried over your shoulder. It is quite remarkable when you think about it, that a device that you can carry around in a bag on your shoulder will transport you at speeds of 10 mph or more.
I found one that says it can reach speeds up to 45 mph, which is insane, while slower ones can go about 12 mph. They are calling them unicycles, but in actuality, some have 2 wheels close together.
Check out this EUC that goes up to 45 miles per hour. Crazy!
How Do You Operate A EUC?
You start with one foot on the scooter and lean forward just a bit then step up with the other foot and place it on the other footrest. Then while standing on the footrest, you lean forward to accelerate and lean backward to slow it down to a stop and to go in reverse.
It will take some practice to get used to it. It is recommended to maybe practice on the softer ground when starting out. Some EUCs have training wheels. But these should only be left on for a short amount of time as the EUC is a bit harder to control with the training wheels on. Use the training wheels just to get the feel of the machine by going back and forth until you can get your balance.
Turning and steering are achieved by moving your body and leaning toward the direction you want to go. This is a full-body experience when riding a EUC.
Beginners should start with a slower less expensive EUC because of the spills you may encounter. You would not want to wreck an expensive EUC while trying to learn. But with that said, they don't come cheap. They range from hundreds of dollars up to thousands of dollars. A less expensive beginner one-wheel scooter under $500 would be an Airwheel X3 Electric Unicycle.
What Is A One-Wheel Sit Down Electric Scooter?
It is just what it sounds like, it has one wheel and you sit on it. I know your brain is probably fizzling right now if you do not already know what this is. You are trying to get the image in your head of what this could look like.
Just imagine a EUC that has a little seat on top of it and a small handlebar protruding out of the seating area and there you have it, one wheel sit-down scooter.
These are not as compact as the EUCs, but if standing for long distances is not your thing, then this is a great alternative. Some are compact enough to easily keep with you as you run errands or take it into the office after your commute to work. If you want to check out these mono-wheel scooters, check out the video below.
How Does A One Wheel Sit Down Scooter Work?
It works similarly to the EUC, where you lean forward to accelerate and lean back to slow down. To turn you lean your body in the direction you want to go. The only real difference is, that you are sitting down instead of standing, plus you have a handlebar to hang onto. The bigger EUCs are large enough to sit down on while in motion. Some models do offer hand controls for braking and going in reverse.
There is a learning curve if you have never been on a one-wheel vehicle before. The trick is to just let your body go with the scooter instead of going against it and lots of practice.
And this can not be said enough, ALWAYS WEAR A HELMET, when riding any scooter, whether it is a kick scooter or electric. Elbow and kneepads would not hurt either to wear, no pun intended. There is always a risk of falling. Be safe and have fun and stay in one piece!
Is A One Wheel Scooter Board A Unicycle?
It is important to note that the phrase "Onewheel" is a brand name and is often used generically to describe scooters and skateboards with one wheel. Onewheel the brand, designs, and assembles its products in the US. These boards are also sometimes referred to as hoverboards.
A one-wheel scooter board is more like a skateboard with a single fat wheel in the middle and you position your feet on both sides of the wheel. It works in a similar fashion as the EUCs, where you lean forward to go and lean back to slow and stop and lean in the direction you want to go to steer. They also maneuver like a skateboard.
These boards have many different identifying titles. Being a new industry I think companies and consumers have yet to properly identify all the new devices coming out and give them their own names.
To answer the question "is a one-wheel scooter board a unicycle", I would say a one-wheel scooter board is more like a skateboard and less like a unicycle, even though they both do only use one wheel to operate.
What Is A KO1 Plus Electric One-Wheel Handheld Scooter?
Here is another one-wheel electric transport scooter, which is unusual and I have only found one brand that makes these scooters. They have made two styles. The first one was said to be fast but the battery life was not long, so they improved on the battery life and slowed the scooter down a bit. Which isn't such a bad idea, because how fast do you really need to go before it becomes an extreme hazard?
The KO1 Plus Self-Balancing scooter is one of a kind. It is like a motorized two-wheel scooter that is cut off at the front wheel. Literally, the whole deck and a rear tire do not exist on this scooter.
It is made of carbon fiber, with one wide airless tire, a single stem, and non-moveable handlebars. I saw where someone had said that the digital display is hard to see on bright days.
Here are the specs:
Frame: Carbon fiber
Weight: 35 lb (16 kg)
Can hold weight up to 264 lb (120 kg)
Motor: 1000 Watts
Battery: 52 V 320 Wh (non-removable)
Battery Range: 25 miles (40 km)
Top speed: 12 mph (20 km/h)
Brakes: Motor braking
Suspension: Yes
Tires: 8.5″ airless
Climbing angle: up to 30%
KO1+ Extras
Kickstand
Headlight
Taillight
LED speedometer
Battery meter
iOS/Android app for calibration and settings adjustments
Ability to be controlled remotely with the app
A One-Wheel Electric Scooter Conclusion
As you see I have explained a few one-wheel electric scooters here, but there are a plethora of others. As my research continues I am finding new and exciting ways to enjoy personal transportation recreational vehicles. One could get addicted to this unique hobby/sport!