Having the right scooter accessories can make or break a fun time. Must have accessories that can keep you going if things go bad. Also, scooter protection accessories should be on everyone's list.
Must-have electric scooter accessories plus some extras:
I go on to explain the importance of safety accessories and then let you in on some extra accessories that you can acquire for added scooter riding comfort.
SAFETY ACCESSORIES
Studies have shown that there has been an extremely high percentage of e-scooter injuries in the United States since 2014. A lot of this is due to the fact that e-scooter rentals have popped up in major metropolitan cities across the United States.
The safety equipment that is not available at the time of renting an e-scooter and the inexperience of the riders are causing many broken bones, head injuries, cuts, and bruises. A lot of these injuries could have been avoided with proper safety equipment. Close to 100% of the people injured were not wearing a helmet.
Helmet
Having the proper safety gear is so important. Often times we think, oh I am just going around the corner, I don't need to wear my helmet. Well let me tell you, whether you are going to the end of the block or the end of town, you should always wear the proper helmet for your scooter. If you have a spill, your head will thank you.
Bell
You might be thinking, why does a bell fall under the safety category? An e-scooter can travel on paths that pedestrians do or other wheeled recreational vehicles. Coming up behind someone quickly can be dangerous if they do not know you are approaching. That is where a bell comes in handy to let people know you are approaching, so they can get out of your way or not step in your path.
Elbow Pads
Elbow pads are not as crucial as a helmet, but they will protect your elbows if you were to have a spill. So if you're going to go all out with safety, elbow pads are a needed accessory.
Eye Protection
Eye protection is right up there with a helmet as a needed safety accessory. If you are doing any kind of speed on an e-scooter there is always the chance of a bug flying into your eye, and a bug at any speed can cause significant discomfort and even temporary blindness at higher speeds of contact.
Safety goggles come in many different styles to fit many different needs. Also if you do night riding, they have special goggles or glasses for night riding to help with the glare of headlights if you are on a road.
Footwear
This is a safety accessory that may be overlooked by many. Having the proper shoes on when on your scooter will save you some future pain if you were to have a mishap. A good grippy sole and a higher shoe that gives ankle support would be the best to wear when riding your scooter.
Front Light
Some e-scooters will come with front lights usually on or near the deck of the scooter. This is to enable the rider to see where they are going in the dark. That is all good and dandy for you, but what about others seeing you coming. It is a very good idea to install a handlebar-mounted front light if you are ever going to be riding at night.
A handlebar front-mounted light will be more visible to oncoming traffic in the way of cars, bikes, and people, being that is higher off the ground. Plus this gives you a more lighted area to see where you are going. This is a much-needed accessory for night riding.
Knee Pads
You might be thinking, of overkill with the knee pads, but if you are going to go as fast as a car without the metal box around you, it is not a bad idea.
Rear Light
As with a front light, some scooters may come with a rear light and or a reflector. They come mounted on the rear back tire of the scooter which makes this light very hard to see by passing cars and other vehicles.
Rear View Mirror
Although not a necessity, it can be a bit of a safety item. A rearview mirror will allow you to look behind you before you make a move without having to turn your head. Turning your head can cause you to become unbalanced, so best to try and avoid it.
Riding Gloves
Riding gloves not only will keep your hands warm on chilly rides, they will also help save your hands if you were to take a spill because your hands will definitely get scratched up as you put them out to brace your fall.
Safety Vest
A safety vest is an added protection for riding your scooter. Especially at night, it will make you more visible on your scooter to others, mainly automobiles or other motorized vehicles.
As an added safety measure you could attach a rear light to a vest to give it even more visibility.
MAINTENANCE ACCESSORIES
Maintenance accessories will come in very handy if you were to have a breakdown while out traveling on your e-scooter.
While it is always best to do preventative maintenance to keep your scooter running well and dependable, there will be times that are just out of your control, and having the right tool kit to get you out of a jam will come in handy. Here would be some tools to have in case of a breakdown?
Battery Charger
A small battery charger that you can carry along in a backpack is a good thing to have if you plan on traveling a long distance in a day. This way you can make sure your cell phone never dies. There are powerful small battery chargers on the market to chose from.
Slime
Slime is a non-flammable, non-corrosive, and non-toxic, sealant for tires. It is well-liked among its users and can come in handy in a failed pneumatic tire. Some users even recommend using Slime as a preventative for flat tires.
Tool Kit
Adjustable wrench
Allen key (1.5-6mm)
Tire levers
Chain breaker
Chain cleaning brush
Chain tool
Digital multi-meter
Flathead screwdriver
Freewheel removal tool
Locking wrench such as vise grips
Lubricant
Magnetic steel tray
Regular wrenches (10, 13, 15, 17mm)
Tire innertube
Tire pump
Tire valve extender
Xiaomi users – Rubber Vibration Damper
A rubber vibration damper for Xiaomi e-scooters is a must if you can't stand rattles. Apparently, it is frequent that Xiaomi scooters start to rattle at the folding mechanism. So these vibration dampers will quiet them down. Good to have a few handy if you are a Xiaomi Scooter owner.
EXTRA ACCESSORIES
BackPack
A backpack is what is needed to carry all your stuff. A backpack is best because it is the best balance having the bag on your back and not slung across your shoulder.
Bag Hook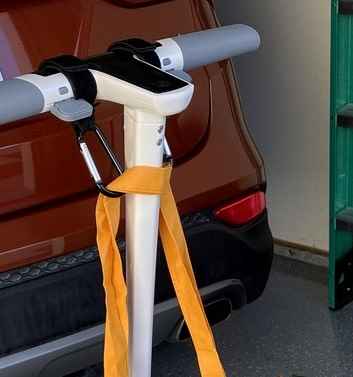 This little thing can make a big difference when riding your scooter and having to carry a bag. It will almost become a safe thing to have if you plan on running quick errands and need to carry a bag. It keeps you more balanced as you ride as if you were to hold the bag in one hand.
Here is an interesting bag hook idea if your scooter does not have a place to mount one. Use two carabiners attached with velcro straps, and then clip the bag handles onto the carabiners. This will keep the bag centrally located on the scooter, which keeps the integrity of the balance.
Carrying Strap or Scooter Carry Bag
If your scooter folds up and is light enough to carry around then a carry strap and or a carry bag would be a good thing to have. A carry bag will help protect your scooter from the elements if it were to start to rain while out riding. It will also keep debris from dirtying up your car or home until you get a chance to clean your scooter from being outside.
Cell Phone Holder
This is almost a must nowadays and it should almost be under safety accessories. I say that because trying to look at your cell phone while riding a scooter can be very dangerous in more ways than one. First of all, it will distract you from looking ahead, and second, it will throw you off balance, not having two hands on the handlebars.
Cup Holder
Cup and or bottle holders can be a good place to carry along some refreshing water on a hot day, it will help lighten the load of your backpack and save some space in a front bag.
Front Bag
A front bag can come in very handy for carrying personal effects, snacks, or whatever you need on your journey. They are small and mount front and center on the handlebars.
Handlebar Extension
Since the handlebars on an e-scooter are only so big and come already with an array of items on them, it sometimes comes necessary to have extra room. That is where a handlebar extension comes in handy. It gives you that little extra space to add an additional item, such as a camera.
Lock
A lock comes in handy if your scooter is too big to carry around and you need to leave it to go into a store or something. They offer different types of locks to secure your scooter and even sound alarms if someone messes around with the lock as in trying to break it off.
You can find some of the items listed above and more at the link here.