Have you ever wanted to take your dog along with you on an outdoor scooting adventure? But the thought of your dog jerking you around on their leash while you were trying to balance the scooter did not seem very safe for either one of you. That has been my thought exactly, until now! I discovered a safer solution for you and your dog, with an urban dog mushing scooter. What is it you ask?
An urban dog mushing scooter is a larger two-wheeled pneumatic tire kick scooter for all-terrain. The scooter is equipped with a bracket of some sort that your dog is strapped onto which enables your dog to run either in front of you or safely next to you. Both systems are propelled by dog power. (I give you a list of scooters and other gear that are ideal for urban dog mushing below.)
Urban mushing is a broad term that encompasses many human and dog-powered vehicle activities. Some of the terms include bikejoring, canicross, carting, scootering, skatejoring, dryland mushing, and sulky. It is a sport where a dog helps pull you forward on a wheeled vehicle over non-snowy land.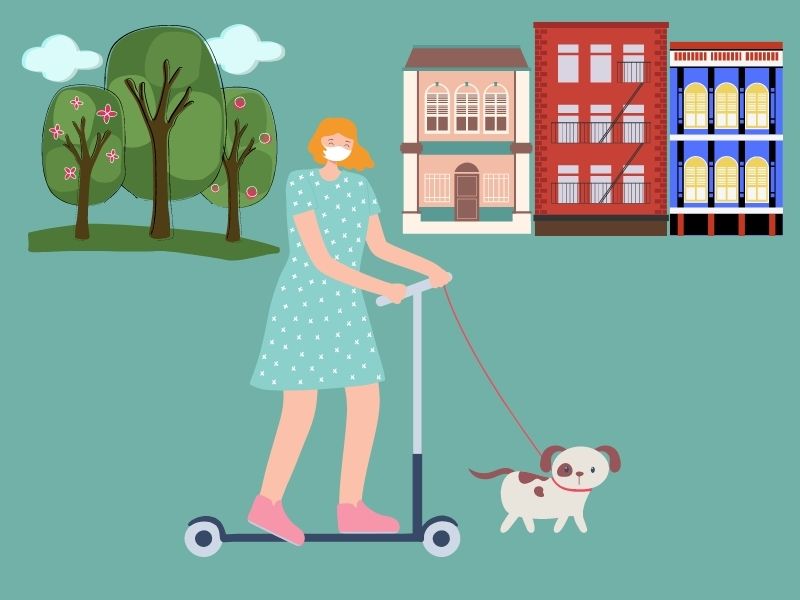 The sport was thought to come out of a need to keep sled dogs in shape during the offseason. Thus evolved this outdoor activity of urban mushing enjoyed by many people and their pooches as a fun form of exercise.
Sled dogs run in front of a sled, usually in teams over snowy, icy conditions. Urban mushers usually run their dogs in front of their scooter and or beside the scooter with a special attachment and a leash.
As I mentioned before there are many terms that describe urban mushing, but the one I am going to focus on is Urban Dog Mushing Scootering. It is basically a dog-powered way to ride a kick scooter and or kick bike. If you are looking for a new safe and healthy activity for you and your dog, this is it.
To get the most enjoyment out of this sport or any sport for that matter you need to have the right equipment. For urban dog mushing, a scooter is needed and a bracket or leash system to attach your dog(s) to.
Dog Mushing Scooters
Scooters suitable for this sport can be a bit pricey for a well-made one, and I recommend that you go with a better quality scooter to provide a safer experience and a longer-lasting scooter.
The investment you make initially will pay for itself tenfold in the overall health of you and your furry companion. Not to mention endless hours of bonding time between you and your pooch(es).
For a more stable ride and control, a larger scooter with larger pneumatic tires is the way to go with this setup. A larger front tire is ideal as the larger front tire does less jerking and feels more stable. Wider tires add to the overall stability and easily can roll over changing terrain.
It is best if the scooter has dual disc brakes, especially if you have more than one dog attached. Because your dog(s) could get you to top speed before you know it, and the last thing you want is not being able to stop.
In my research of urban dog mushing, I came across a scooter with a side attachment that you hook a dog into by way of a harness attached to two sides of the dog. The dog fits under the metal tubing and is hooked in on both sides of the dog harness, which keeps the dog more contained while running with the scooter. This device seemed to be the most stable way to urban dog mush.
Mark Schuette is the inventor of this remarkable device. He is a one-man show, making the urban mushing dog scooters in his spare time, right in his home state of Utah, USA. He takes great pride in his scooters and the side device he is most proud of. His concern for the safety of the dog and the owner speaks volumes about Mark.
See his dog mushing scooter story in the video below.
He offers custom-built scooters from the ground up and he will also custom fit his side harness to a scooter you might have or will purchase. But he is particular about the kind of scooter he will put it on. He does not just put it on any scooter. The scooter has to be well built and safe enough for the sport. See his website https://dogpoweredscooter.com/ for all the information.
He has said that the dogs need to be pullers. The kind that drags you around on the lead as you try and do a leisurely stroll through the park. This is the perfect activity to help your high-energy dog expend that energy.
Kick Bike Scooters That Work Best For Urban Dog Mushing
The least expensive kick scooter I found that would work as an urban dog mushing scooter is the Schwinn Shuffle, even though it is best for flatter surfaces and not much rough terrain because of the thinner tires, you can put wider tires on this kick bike scooter for the off-road adventures you crave.
Schwinn Shuffle Adult Scooter

26″ Front, 20″ rear pneumatic tires
Dual Alloy Linear Pull Brakes
Front & rear fenders a plus
Lightweight, strong alloy rims
Max weight load 200 lbs (90kg)
Check out the all-terrain replacement front tire for the Schwinn Shuffle and the rear all-terrain replacement tire. With the added cost of the extra tires, it is still the best value for a beginner in the sport of urban dog mushing.
The Kickbike America CF0002 Cross Fix Scooter is on the more pricey side, but well worth the money for its reputation and quality.
Kickbike Sport G4

28″ Front, 18″ rear pneumatic Kenda tires
V-brakes

Quick-release tires
Max weight load 265 lbs (120kg)
Includes:

Kickstand
Front & rear fender
Assembly tools
Reflectors
Bell
K9-MUSH-SCOOT Dog Mushing/Joring Scooter & Pulling Bracket

Large Footplate
Front Shock Absorber
20″ Front and back pneumatic tires
Dual Disc Brakes
Rear-wheel Guard
Cargo Rack
Front & Rear Fenders A Plus
Lightweight, Strong Alloy Rims
Max weight load 250 lbs. (113kg)
Pulling Bracket Available To Add On
In addition to the above list, here are some other scooters I have found that would also work for urban mushing.
Kickbike offers an Ultimate Mushing Starter Setup that includes the scooter and the attachments with a leash to get you started on your urban mushing adventures.
Urban Mushing Gear For Kick Scooters
Urban mushing gear would include a kick scooter/kick bike for starters and a bracket of some sort along with a harness and leash for your dog. As for the scooter, there is no one particular scooter for urban mushing, but there are scooters that are better suited for the sport. You would need a substantially strong scooter to endure the terrain and give you a more stable comfortable ride. A flimsy small-wheeled scooter is just not going to get it. The wider and knobbier the tires the better.
Dog Scooter Attachments
The best way to have your dog run with you and your scooter is to add an attachment to the kick scooter. It is a safer way than trying to hold onto a leash and balance your scooter at the same time. The front pull devices are spring action to help with the jerking motion of a dog that is pulling and especially if your dog were to pull side to side.
Front Dog Pull
Side Bracket Dog Pull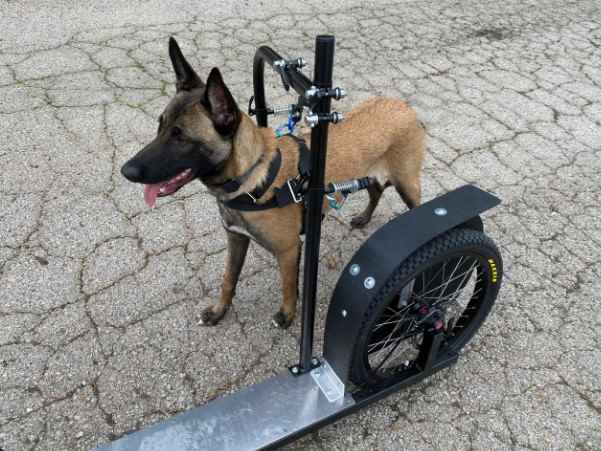 This system works well for recreational adventurers and untrained dogs who want to pull and run while on a leash.
This concept is the best I have seen yet to safely run a dog along with you. If you have a dog like mine who is skittish and not totally trained to not chase after something while out in public, this is the perfect solution!
Urban Mushing Dog Harness
Now let's talk harnesses. What is the best harness for your dog while dog mushing? First of all, you would want it to fit your dog well and not be rubbing anywhere that may make your dog uncomfortable.
Front Pull Harness
A front pull harness is a common dog mushing harness used in the snow sport of dog mushing. If you are planning to use a front pull system then an X-back harness is the best choice. X-back harnesses are usually used for medium to larger dogs about 35 lbs. to 60 lbs.
Side Bracket Harness
For a side pull setup, you need a different kind of harness. The harness needs to have rings on both sides of the harness to hook them to both sides of the rig. This will keep them securely attached to the side bracket, and also keep them within the distance of the bracket.
Image courtesy of Mark Shuette at Dog Powered Scooter
This 2″ wide Nylon Harness you see pictured here is custom-made by Mark Shuette to go with his custom-built dog-powered scooters which can be purchased at his website here.
A cushioned chest strap will give added comfort while the dog is pulling the scooter. It is important to have a proper fit, to ensure your dog has a comfortable experience.
Here are a few harnesses that will work with a side bracket kick scooter accessory that has rings on both sides of the harness.
Dog Mushing Boots/Shoes
Does my dog need dog shoes? You might not have ever given this a thought, but if you are running your dog for long distances over hot pavement, rocky roads, and even snowy, icy conditions, you may want to consider putting dog shoes on your dog.
Dog boots/shoes will protect your dog's paws from the terrain and also give your dog a more comfortable experience, and give extra gripping power, especially in slippery conditions such as rain and or snow and ice.
So don't forget the dog boots when you are gearing up for your Urban Mushing experience. Your dog will thank you.